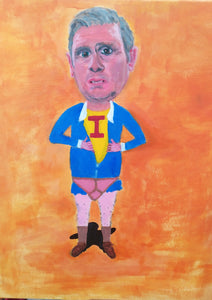 Keith to the rescue
Superb quality prints from an original artwork by Steven Hemmings. Prints come in A4, A3 and A3+ sizes.
The prints are mounted using gallery quality mounting materials and high quality acrylic glass. The acrylic has a a high UV filter rating to protect the prints from damage from direct sunlight. The print is finished with a beautiful contemporary oak frame which has a beeswax finish. 
All frames are handmade by the artist.